---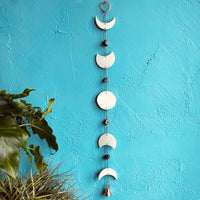 A beautiful wall piece or wind chime, hand made porcelain , assembled with antique brass chain,  grounding chunks of pyrite super charged under the full moon, finished with a lovely brass bell chime.  
Place this moon chime in a location to remind you be mindful of the phases of the moon. 
The more attuned we are to these phases and how they affect us, the better we can harness the different energies. 
Moon phase chime measures 24 inches.
About the stones in this pieces.
Pyrite is an excellent grounding stone, and helps in conducting energy, invigorating the auric field and focusing rogue energy. It can be used as a talisman for prosperity and encourages focus, logic and serenity.