---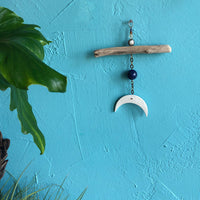 A beautiful small talisman or altar piece, hand made porcelain , assembled with antique brass chain, drift wood collected from Carmel by the Sea, spiritual connector blue jasper along with grounding pyrite, and small quartz, tiger eye and blue jasper beads all super charged under the full moon. 
Measures 7 inches long.
About the stones used on this piece
​Blue jasper connects you to the spiritual world. It stimulates the throat chakra and balances yin and yang energies.
Blue jasper brings you the courage of your convictions to speak out against injustice or prejudice to protect the vulnerable.
Pyrite is an excellent grounding stone, and helps in conducting energy, invigorating the auric field and focusing rogue energy. It can be used as a talisman for prosperity and encourages focus, logic and serenity.
Tiger Eye helps you to release fear and anxiety and aids harmony and balance. It stimulates taking action, and helps you to make decisions with discernment and understanding, and unclouded by your emotions. 
Quartz is ideal for shamanic journeywork, spiritual healing and energy work. Clear quartz assists when aligning with the Archangels.